28 Apr 2023
New smart EV charger and free app aim to keep EV drivers on the road to clean, efficient motoring.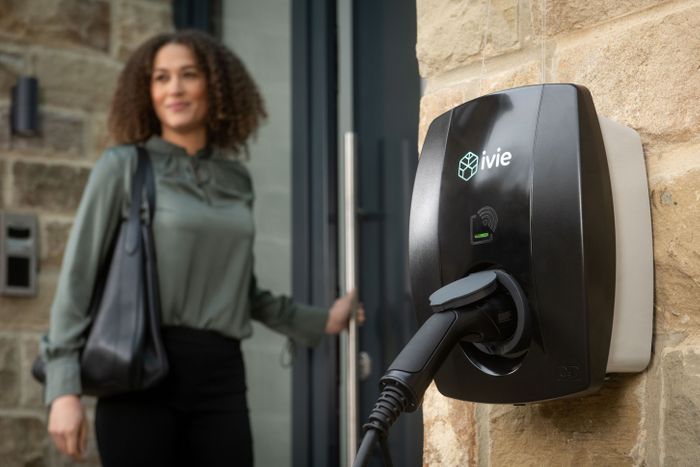 Electric vehicle (EV) drivers can automatically charge their cars when it is cheapest or greenest with the launch of a new home EV charger and free smart charging app. This power pairing allows for ultimate charging flexibility to enable valuable savings on energy bills and reduce carbon emissions.
The ivie EV Charger and the ivie Charge app deliver smart home charging features, such as the opportunity to set your own charging schedule, with the bonus of useful public charging functionality at over 9,000 public charge points nationally, to be rolled out to ivie EV Charger users ahead of general release.
These new products are a crucial element of ivie's ongoing commitment to reducing the environmental impacts from inefficient and wasteful energy use, offering support to help the UK meet its Net Zero target by 2050.
The ivie Charge app's stand-out home charging feature, for those looking to make a real impact in reducing emissions, is being able to identify the times to charge an EV when the UK's energy supply is greenest. For users on single rate tariffs, the ivie EV Charger and ivie Charge app work together to automatically charge at the greenest times, easing pressure on the grid by using the maximum amount of renewable energy.
If the user has a dual-rate tariff which already encourages energy use at greener times via a cheaper off-peak period, the app allows these users to make considerable savings as they recharge, by taking full advantage of off-peak energy prices and prioritising charging at these cheapest times. ivie is all about giving users peace of mind with minimal effort – this feature ensures that they are doing the best for the planet and for their pocket automatically.
The 7kW ivie EV Charger and app also give users the ability to set a personalised charging schedule, specifying a time that they would like the car to be fully charged by. All of this can be effortlessly controlled remotely via the ivie Charge app. If plans change, a handy Boost function gives the ability to turn on instant charging to kickstart charging and override any scheduled settings.
The UK's EV market is booming with record sales, increasing by 40% in 2022 and more than one in ten new vehicles being electric. Despite this growth, the most common frustrations experienced by EV drivers are broken or faulty public charging points and competition for public charging spots. The need for smarter, simpler and greener home charging is becoming increasingly important to EV motorists.
The Government announced in 2021 that 300,000 charge points would be in place by 2030, however, the UK is currently well behind that rate of installation. As of January 2023, there were 36,752 public EV charging devices available in the UK. Of these, just 712 are rapid charge, which can result in lengthy delays for motorists who desperately need to charge.
The upcoming roaming features of the ivie Charge App will become freely available to all EV drivers in the coming months, rolling out initially to ivie EV Charger customers.
For motorists needing to recharge on the move, the ivie Charge App will display accurate updates of a public charge point's status before arrival. These can be filtered by type, speed of charging and customer reviews, avoiding the likelihood of a wasted journey due to a faulty or currently busy charger.
The ivie Charge app delivers seamless charging and payment at over 9000 UK charging points with one simple, flexible app linked to a preferred payment option, meaning users don't need multiple apps and RFIDs as with other charging apps, and no need for prepayment.
The ivie EV Charger and ivie Charge app will be launched at Fully Charged Live South in Farnborough on 28-30 April and will also be showcased at Fully Charged Live North in Harrogate on May 19-21.
Mike Woodhall, CEO of Chameleon Technology, the smart energy pioneers behind ivie, commented: "Adoption of EV technology is a major component in helping to drastically cut carbon emissions, supporting the UK's goal of transitioning to more sustainable motoring by 2030. However, ongoing frustrations around infrastructure and reliability remain and we are aiming to address these with a "truly smart" app alongside our EV charger to encourage faster adoption amongst motorists.
"Convenience is one of the key features of the ivie EV Charger and the ivie Charge app, helping EV drivers to easily overcome the frustrations around home and public charging and battery range. We've integrated charging features built around consumer needs with the ability to set and forget, fitting in perfectly with busy lifestyles combined with easy public charging and simple payment methods. We're making it much easier to ensure that the EV is always ready to go."
The ivie EV Charger costs £1,099 for full professional installation with an industry-leading five-year warranty, together with a comprehensive customer support package. ivie makes the installation process as stress-free as possible too, with an end-to-end seamless, managed service from initial purchase through to ivie's authorised installation team arriving to install the charger.
The ivie Charge App is available to download for free for Apple and Android phones, with public charging features to be available to the general public in the coming months.
Added Mike Woodhall: "Helping everyone achieve carbon neutrality is a key objective for Chameleon and its consumer brand ivie, as demonstrated by the introduction last year of ivie's smart energy app, which aims to save households money on their bills by saving energy and becoming more eco-friendly. Thanks to the ivie app and the ivie Bud in-home display device, over 40,000 households are now successfully reducing energy costs as well as carbon. With these two new products we hope to introduce the same benefits and more for EV drivers."
For further information about the ivie EV Charge and the ivie Charger App please visit ivie.co.uk/ivie-ev-charger
ENDS
The ivie EV Charger costs £1099 for full installation*, and the ivie Charge app is free to download from the App Store or Google Play.
For media enquiries, please contact Terry Gilligan on 07770 703541 or terry@team-g.co.uk
For more information about Chameleon Technology, please visit chameleontechnology.co.uk
Notes to editors:
ivie is the consumer brand of smart energy technology pioneer Chameleon Technology. Chameleon has been helping people to better understand their energy consumption since 2010. A leading smart energy innovator and market leader in the ongoing smart meter rollout, Chameleon is helping consumers, industry and Government to make the transition to Net Zero.
20 million people, in one third of homes in the UK, have access to a Chameleon smart energy display to keep track of their energy use and spending. Chameleon has also been entrusted with £3.6M of innovation funding from the Department for Energy Security and Net Zero (DESNZ) for projects including developing V2X (vehicle-to-everything) technology. Chameleon is participating in the initial stage of the landmark multi-phase V2X Innovation Programme which will enable EV drivers to benefit from lower energy bills and cheaper motoring while maximising the benefits of renewable energy and flexibility for the grid.
Based in Harrogate, North Yorkshire, and with operations in France and Hong Kong, Chameleon is creating a home energy ecosystem for the future. Having developed home energy data insights and smart EV charging, Chameleon Technology is working on further innovations relating to decarbonising heat, solar energy and storage, demand flexibility and much more to help deliver the UK's Net Zero commitments.
*Standard Installation. Non-standard Installation may incur additional costs.
https://ivie.co.uk/wp-content/uploads/2023/04/1341_general_home_charging_20s-1080p.mp4