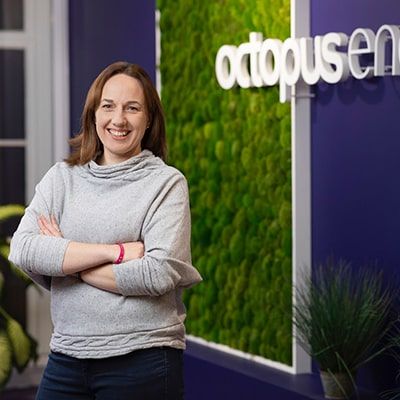 Fiona Howarth
Chief Executive
,
Octopus Electric Vehicles
Fiona is the founder and CEO of Octopus Electric Vehicles, who joined the Octopus Energy Group in 2017 with a simple mission; to make the transition to electric vehicles (EVs) easier.
The Octopus Electric Vehicles proposition has grown to fill the gaps at every stage of taking up an EV, both for consumers and businesses. Their fast-growing expert team, led by Fiona, has secured excellent leasing rates on leading EVs, designed a first-of-its-kind EV salary sacrifice scheme, created energy tariffs designed specifically for EV drivers, and have partnered with smart charging tech companies to enable customers to access cheap, green energy with ease.
Before setting up Octopus Electric Vehicles, Fiona was launching market-leading connected home products - firstly at British start-up Alert Me, who became part of the leading smart home provider Hive at British Gas. She has also held positions at the Department for the Energy & Climate Change (DECC) and BMW. Fiona studied Engineering, Economics and Management at Oxford University.